Activities Dartmoor The Den & The Burrow
PUBS
There are many good pubs on Dartmoor, most offering a hearty Dartmoor welcome fine real ales and good pub food.
The Warren House Inn, the most famous inn on Dartmoor. It stands isolated and remote on Dartmoor ( at about 434m). It is reported the third highest in the UK but the most loneliest. Originally meant to serve food to the miners. Today it serves tourists, mostly walkers and passing trade. The fire is set to be burning since 1845, the year the pub was built. ( on a 30 min. walking distance from the farm, a white building which becomes visible from the top of most hills).  www.warrenhouseinn.co.uk/history.html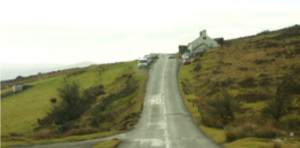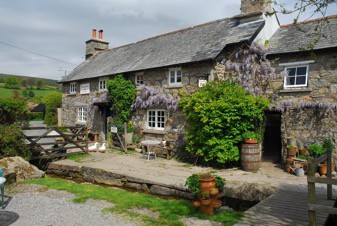 The Rugglestone Inn - Widecombe in the Moor is the perfect environment in which to unwind after a long days walk on the surrounding hills, moors and Tors of Dartmoor. with great ales,an extensive wine list and mouth watering food you are assured a fine lunch or evening meal. www.rugglestoneinn.co.uk
The Old Inn - Widecombe In the Moor. A beautiful English country inn with bags of character! Nestled in the picturesque village of Widecombe in the moor, The Old Inn offers everything you would expect from a traditional Dartmoor pub. www.theoldinnwidecombe.com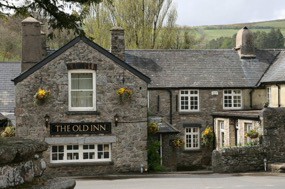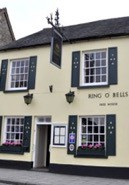 Ring o'Bells Widecombe -situated in the very centre of Chagford adjacent to the well known emporiums of Webbers and Bowdens , The Ring O'Bells offers good ales, fine wines and excellent home cooked, locally sourced food in a warm and friendly atmosphere. www.ringobellschagford.co.uk
The Three Crowns Inn - Chagford. Behind its imposing granite facade, the Three Crowns is a magical mix of 13th century features and contemporary comfort and style. From beamed ceiling and huge inglenook fireplaces, to a glass atrium and stunning courtyard garden, the Three Crowns is a delightful place to enjoy great food and a comfortable stay.They offer a delicious menu featuring fresh, local seasonal produce and also  offer an extensive wine list and a great selection of soft drinks. They are  have a policy of 'keeping it local' and use local ingredients in our dishes and stock local wines and juices. Whether you choose to eat in the cosy, traditional front bar with its log fire and mullioned windows or the stunning light and open glass atrium we are sure you will enjoy your meal. www.threecrowns-chagford.co.uk
The Globe Inn - Chagford. Food is served throughout the Inn, so you can choose where to eat – enjoy the banter in the  bar, relax in the lounge bar or take your time in the dining room. Very tasty  food and a lot of veggie options. www.theglobeinnchagford.co.uk/food
The Cleave - Lustleigh. The Cleave Restaurant & Bar is a 15th century thatched inn, located in an old train station,  set in the beautiful village of Lustleigh on Dartmoor Devon. With a well thought out wine list to compliment the food, along with a high level of service, one can look forward to good simple food cooked to perfection and something just that little bit special. And they are dog friendly where they are welcome in the bar and when the sun shines in the beer garden or by the log fire when the evenings get a little chilly. www.thecleavelustleigh.co.uk
The Horse - Moretonhampstead. Behind a rather unprepossessing facade, lies a genuine slice of foodie heaven - included in the Michelin Guide to Eating Out in Pubs 2009. www.thehorsedartmoor.co.uk
ORGANIC
Riverford Field Kitchen
Wash Barn, Buckfastleigh, Devon, TQ11 0JU
Tel: 01803 762074
Riverford Field Kitchen is an award-winning organic restaurant on Riverford's Devon farm, where you can enjoy seasonal produce straight from the land to large farmhouse tables on generous sharing platters.
Eating in The Field Kitchen is an experience to remember. Local produce (the majority directly from the farm on which the restaurant sits) is supplied daily and is freshly prepared in a unique manner for a one-menu, three-course set meal for lunch and supper, at which all guests are served at the same time. The 'sharing' ethos of Riverford encourages guests to opt for the communal dining tables (although private tables can usually be accommodated by request), and the meal is a relaxed, homely occasion.
For lunch you will enjoy two seasonal salads or vegetable starters, while three
are served in the evening, Main courses are three imaginative vegetable side dishes and one meat dish on the table for guests to help themselves, and their fellow diners to. (If you'd like a vegetarian alternative to the meat dish just ask when you book). Portions are generous and there'll be plenty to go round. Just save some room for our famous puddings! Children are welcome.
Opening times
Open every day for lunch and most evenings for supper. Booking is essential. Lunch is served at 1pm and supper at 7.30pm. On Sundays we are offering two lunch dining times. Choose between a 12pm and 3.30pm arrival time
Prices
3 course set lunch £23.50 adult / £11.75 child
3 course set supper £27.50 adult / £13.75 child
Under 3's eat for free
SPORTS
CYCLING
Dartmoor is a genuine cycling experience offering a range of routes to challenge all levels of ability and experience. Families can enjoy quiet days out along the trails created along disused railway lines, whilst the more experienced riders can test their stamina and endurance along the Dartmoor Way. www.devon-online.com/towns/dartmoor/dartmoor-cycling.htm
The Dartmoor Cycling Map
To help you plan great routes on and around Dartmoor, the Dartmoor and Surrounding Area for Cyclists map is invaluable. This tough, detailed waterproof map shows tried and tested cycle routes whether you are cycling off-road or touring.
All paths and tracks where cyclists have a legal or permitted right to ride are shown. Off- road routes have also been graded and colour coded by cyclists so that you can easily identify the paths that will suit your ability and mood. The map includes enlargements of the Tamar Valley AONB and Haldon Forest Park and shows public transport hubs.
KAYAKING
Fun and adventure are the motivating forces to embark on kayaking. info@art-of-adventure.co.uk
GOLF at Bovey Castle
Our 18 Hole Championship Golf Course, Devon
The golf course at Bovey Castle is a challenging and beautiful 18-hole championship course, designed in 1926 by J F Abercromby, one of the finest British golf course designers of the last century. When the course opened in 1930, it quickly gained national acclaim for its reputation as one of the most enjoyable places to play golf.
Designed to rival its sister courses at Gleneagles and Turnberry, this course has been described as an experience of golf never to be forgotten, presenting the pure challenge of golf to professional and amateur alike. The course meanders through the hotel estate, surrounded by idyllic landscape and challenges to meet any handicap.
Bovey Castle also offers a fully-equipped club house, driving range, golf academy and bistro for pre and post match meals and snacks.
If you would like more information and to play the course at Bovey Castle, please contact the golf team on 01647 445009 or email golf@boveycastle.com.
WALKING
www.dartmoorcam.co.uk/CAM/previouswalks/previouswalks.htm. This website describes 430 walks through Dartmoor
Grimspound, the remnants of a bronze age village is literally situated opposite Headland warren Farm. A short easy 10 minute walk via Firth bridge  will lead you to it. Really a well preserved site with quite a number of small hut stone circles within the perimeter wall.
Hookney Tor is to the North with well trodden paths to this site, and from layby parking on the nearby road is probably only about a 10 minute walk. It lies on the upslope towards the end of a long valley where the wind can funnel through often making it quite breezy.
Hameldown Tor is to the East, an impressive ridge of granite runs from it direction Widecomb. It is quite high (532m), but easily accessed and provides splendid views over Dartmoor. On the ridge you will pass a total of 5 Tors: Broad Burrow, Single Burrow, Two Burrows, Hameldown Beacon. Birch Tor is to the West, an easy to get to view point.
Two moors way - Runs through the Headland Warren grounds, you find it just outside the small gate past the farmhouse.
The Two Moors Way is a long-distance walking route between Ivybridge on the southern edge of Dartmoor and Lynmouth on the North Coast of Exmoor, comprehensively waymarked except on the open moorland sections. It has a total length of 102 miles (163 km), making it an ideal week's walk.
The Way links the only two National Parks in southern England, and crosses both of them north-south. Not surprisingly, it passes through landscape of exceptionally high quality. Not only does this include the high moorland of some of the Dartmoor and Exmoor sections, but also the deep and wooded valleys of the moorland edges and between the moors, unspoilt rural scenery with a remote and tranquil feel difficult to find elsewhere in modern times.
Tin-mines
The remains of 2 ancient tin mines, being Vitifer and Birch Tor tin mine can be find just below Birch Tor.
In medieval times, or even before, the area was at the centre of the most extensive surface mining operations on Dartmoor, and today it is still scarred by the waste heaps left by stream working and numerous gullies of open cast mining.[1]
Bennets Cross – is an ancient, granite wayside cross that sits just beside the B3212 almost opposite the Warren House Inn. Barely discernable W and B stand for Warren Bounds, a point along the old boundary of Headland rabbit warren.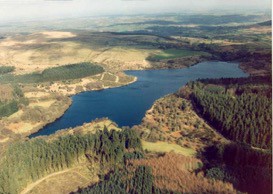 Fenworthy Reservoir - (originally built to supply Torbay with Dartmoor water)
Is a wonderful place to visit, with a visitor car park and a scenic picnic area. The water falling down behind the dam forms an impressive sight.
There's a choice of hikes for all abilities. The round-the-lake walk, 3.5 miles, is probably easiest and most desirable, but often very boggy.. Nice views on moorlands and forest and a lot of old remains of the Bronze Age are to be seen.
Lydford Gorge ( a national trust site)
The deepest gorge in the South-West with a spectacular 30m deep waterfall.
You can make a round walk through the magnificent beauty of this gorge. At the turning point of the walk you will see the 30m high White Lady waterfall. There is an abundance of wildlife, birds and plants to be seen. When it is warm you can paddle at the riverside.
POTTERY
Powder Mill Pottery Powdermills is the home and workplace of potter, Joss Hibbs. In the Shop, her range of pottery is sold alongside a range of housewares hand-crafted by thirty other Dartmoor craft-makers. Cream teas are served in the courtyard in the Summer season, and intensive Throwing Courses are run during Spring and Autumn. www.powdermillspottery.com
HORSE RIDING
http://www.dartmoorstables.com/dartmoor-riding-centre/
Here at Shilstone Rocks Riding Centre we offer horse riding over Dartmoor and lessons in our outdoor menage all tailored to your experience. We have a range of horses and ponies to suit all abilities from the beginner to the experienced rider. The Riding Centre, established in 1962, this year, celebrates its fifty first birthday and continues into its second generation. It is British Horse Society Approved and has the Local Authority Licence.
http://www.adventureclydesdale.com
We offer horse trail riding holidays on Dartmoor in Devon exclusively with magnificent Clydesdale horses. Our business is based on the amazing adaptability of the Clydesdale breed, which has a wonderful nature and impressive ability. Coupled with this is the opportunity to ride out in one the UK's wild and fascinating landscapes which we interpret for our clients.
http://www.fitzworthyequestrian.co.uk
Nestled in the beautiful Dartmoor National Park is every rider's dream! From novice to experienced, or complete beginners, Fitzworthy Equestrian Centre is an idyllic setting for a memorable day out.
http://www.cholwellridingstables.co.uk
Cholwell Riding Stables is a family-run business that has been providing escorted rides and riding lessons on Dartmoor for nearly forty years.
VILLAGES
Widecombe on the Moor, the heart of Dartmoor. (4.5 miles)
The touristic centre of Dartmoor, starting point for many walkers. For such a small village it has a splendid church, known as the Cathedral of the Moors. It is famous for its annual fair, held on the 2nd Tuesday of September. The most popular pubs are: Rugglestone inn and the Old inn. There are a few lovely tourist shops, including the National Trustshop, that sell souvenirs and informative books of Dartmoor. Markets, craft and local produce, are held on Thursdays and Saturdays.
www.widecombe-in-the-moor.com
Tavistock (15 miles)
The name derives from Tavy, the river. 11.000 inhabitants. It is one of the most elegant towns in Dartmoor. An ancient tin-marketing town, birth town of Sir Francis Drake, with architecture of local stone. It offers a wide range of shops, restaurants and tearooms. In the centre of the village you will find numerous old buildings 19th Century, Grade-II listed historical warehouses known as The Wharf, It offers an arts centre, cinema, concert hall, a waterside coffee shop and bar.
www.tavistock-devon.co.uk
Ashburton (15 miles)
A bustling market-town with a rich historic past. Known for its good selection of restaurants and tea shops, and with a lot of speciality foodshops. But most famous for its grand selection of antique shops.
www.ashburton.org
Moretonhampstead (7 miles)
An ancient market-town with a good selection of accommodation and restaurants. Don't miss Moreton's music day in July and carnaval in August. The co-op supermarket is open 7 days a week, and has  a good selection of foods. www.moretonhampstead.com
ADVENTURE PARKS
Eden Project
www.edenproject.com/visit/before-you-visit
The Eden Project, an educational charity, connects us with each other and the living world, exploring how we can work towards a better future.
Our visitor destination in Cornwall, UK, is nestled in a huge crater. Here, massive Biomes housing the largest rainforest in captivity, stunning plants, exhibitions and stories serve as a backdrop to our striking contemporary gardens, summer concerts and exciting year- round family events. Registered charity number 1093070 (The Eden Trust). Money raised supports our transformational projects and learning programmes.
ZOO'S
Dartmoor Zoo main office: 01752 837645
Email: office@dartmoorzoo.co.uk
Address: Dartmoor Zoological Park, Sparkwell, Plymouth, Devon, PL7 5DG
Opening Hours
Dartmoor Zoo is open 364 days a year, from 10am to 4pm in the winter months and 10 am to 6pm in the summer. Last entry is 1 hour 15 mins before closing. We are closed on Christmas Day. Click here to find out more.
Conservation, Education and a Great Day Out!
Join us for a fun packed, animal filled day, on the edge of one of the UK's most beautiful landscapes. Hidden on the borders of Dartmoor National Park, Dartmoor Zoo boasts a wonderful 33 acres of woodland, celebrating a wide range of exotic and native animals, including the biggest variety of Big Cats in the South West of England. From Tigers to Tortoises, you're bound to find some of your favourites, and with our unique enclosure designs you'll feel closer to these beautiful animals than ever before. www.dartmoorzoo.org.uk